Latest Episode
Season 3, Episode 13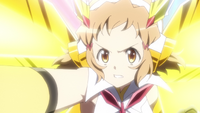 Believing miracles were the thing that condemned her father to death, Carol spreads Alca-Noise across the city, the Symphogear wielders, sensing that Carol is feeling alone, fight against them. Read more...
Poll
Are you excited for Senki Zesshō Symphogear AXZ?
Wiki Affiliations
If you want to affiliate with the Symphogear Wiki, please contact an admin.




Ad blocker interference detected!
Wikia is a free-to-use site that makes money from advertising. We have a modified experience for viewers using ad blockers

Wikia is not accessible if you've made further modifications. Remove the custom ad blocker rule(s) and the page will load as expected.