Latest Episode
Season 3, Episode 13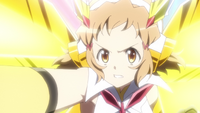 Believing miracles were the thing that condemned her father to death, Carol spreads Alca-Noise across the city, the Symphogear wielders, sensing that Carol is feeling alone, fight against them. Read more...
Poll
Who is your favorite user of the Gungnir Relic?
Wiki Affiliations
If you want to affiliate with the Symphogear Wiki, please contact an admin.