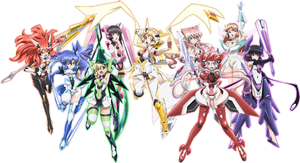 The Symphogear (シンフォギア, Shinfogia?) is a powerful armor used to combat the Noise. They are activated when its user uses a song to harmonise with a relic.
Overview
Based on the proposed "Sakurai Theory" from the Special Disaster Response Team Division 2's own technology expert, Ryoko Sakurai (in actuality Finé, who had possessed Ryōko's body by the time), "Symphogear" is the name of a special, counter-measure armor that was created through the phonic gain of unique relics. Having been developed with the use of multiple theories and technologies outside the relm of traditional science it is currently the only existing weapon known to stop the world-wide disaster known as the "Noise," however to avoid conflict with current constitutional laws its existence has been completely hidden to the public.
Able to respond to the synthetic vibration resonance created by the fighting spirit of the user, the Symphogear's greatest trait is its internal functionality to play a certain melody. By synchronizing that melody with the user through song, the Symphogear displays an incredibly high rate of battle potential.
Although the armor is able to absorb damage during battle, any sort of disruption of the song will result in a temporary dampening of its battle potential. At the moment, this is the only weakness that has been observed in the Symphogear system.
Most Symphogears has a ultimate form called X-Drive form, where most of its limiters are released, giving the user immense power, capable of destroying a great amount of Noise at once. Depending on the number of limiters released, the armor may manifest in different forms under X-Drive mode.
Holy Chant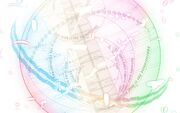 In order to activate an Symphogear, the user must sing a specefic melody which is refered as an holy chant (聖詠, Seiei?). The holy chants varies between the users, but some users can have the same chant. The chants can either end with "tron"[1] or "zizzl".[2]
Users
See: Symphogear Users
Evolution
Over the course of the series, each user's Symphogear has gradually changed and evolved with time and usage.
In fact, the Symphogear system has 301,655,722 different varieties of locks applied to it. Depending on the user's level of ability and their personal battle style, there is a systematic progression of phases that the user will go through to release the locks.
The purpose of this setup is to adjust the Symphogear to the user's individual preferences, however it is also in place to reduce the strain put on the user's body as much as feasibly possible. In order to achieve this, and give the user a greater mastery of the system itself, it is essential that the user be trained with the device at an increasing difficulty and learn to operate it proficiently.[3]
See Also
References
↑

Hibiki, Tsubasa, Chris, Maria (Airgetlám), Shirabe, Kirika, Serena

↑

Kanade, Maria (Gungnir), Miku