Let's get to work!

The following article is a stub! It is not considered to be complete regarding the information available for it and still need to be improved. Your help is highly appreciated here. You can help us by expanding it!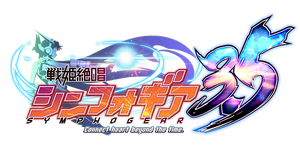 Senki Zesshō Symphogear 3.5 (戦姫絶唱シンフォギア3.5, Senki Zesshō Shinfogia 3.5?, "Superb Song of the Valkyries: Symphogear 3.5"), subtitled "Connect heart beyond the time", was one of the events of Senki Zesshō Symphogear XD Unlimited, before becoming part of the story mode as Main Quest. Set between Senki Zesshō Symphogear GX and AXZ, it ran from July 18, 2017 to July 31, 2017.
Story
3.5 covers the "Alexandria Incident" and Maria's investigation into the Bavarian Illuminati.
Songs
Event Cards
Event Cards introduced in Senki Zesshō Symphogear 3.5
Hibiki Style・Light Wearing's Palm
Flash of the Rider's Blade - Final Lightning
SPREAD ZEPPELIN
NEMESIS † HAMMER
Final β Style・Slashing Steel's Web
Violent Kill・Mad Hatter
Total exhaustion
The king's friend
Gallant entry
The pharaoh's resentment
The Academy students' summer vacation
Gallery
Video
External link