Let's get to work!

The following article is a stub! It is not considered to be complete regarding the information available for it and still need to be improved. Your help is highly appreciated here. You can help us by expanding it!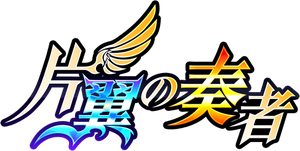 Hen'yoku no Sōsha (片翼の奏者, Hen'yoku no Sōsha? The One-Winged Performer) is one of the events of Senki Zesshō Symphogear XD Unlimited. It ran from June 30, 2017 to July 14, 2017 and a second time from November 1, 2017 to November 20, 2017.
Story
Hibiki, Tsubasa, and Maria, through use of the Gjallarhorn Relic, travel to a parallel world where Tsubasa sung her Superb Song during the Zwei Wing concert and died, with Kanade living on instead. Meanwhile, a new type of Noise known as "Karma Noise" has appeared.
Songs
Event Cards
Event Cards introduced in Hen'yoku no Sōsha
ULTIMATE ∞ COMET
Blue Flash Destroyer
STARDUST ∞ FOTON
ALOOF † KNIGHT
Shadow Fang・Nightingale
Both wings will play a song once more
Diva's collaboration
For the sake of becoming stronger
Gallery
External links