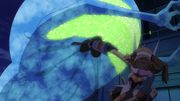 A barrier created from vibrations emitted by the
Symphogear
System in the form of sound waves. In other words, the coating forms from oscillations created through music, establishing a barrier that can negate the Noise's special ability to reduce the human body to carbon. 
As a so-called "musical barrier," it will surround the Symphogear user and reduce the carbon conversion ratio to 0. When combined with the Symphogear Systems's ability to nullify the phase contrast barrier, it enables the user to act freely without fear of the Noise's offensive or defensive capabilities.
The barrier coating does not function only on a sole individual, rather by using the Symphogear as a base, the barrier effect extends around the vicinity. The range of the coating is dependent upon the reach of the music produced by the Symphogear system and any Noise within that range will suffer an alteration that suppresses their carbon conversion ability.
However, because the barrier is created through music, a weak point is created as the coating is gradually reduced the further one gets from the user. But even though this effect decays over distance, even at the very edge of its range it will not completely disappear, so from a tactical standpoint it is possible to safely position auxiliary support.
Ad blocker interference detected!
Wikia is a free-to-use site that makes money from advertising. We have a modified experience for viewers using ad blockers

Wikia is not accessible if you've made further modifications. Remove the custom ad blocker rule(s) and the page will load as expected.